If you are a water tower owner or operator, sooner or later, you will need to have your tower painted. Water Tower painting is not only an important maintenance activity, but it can also be a way to improve the appearance of your water storage unit and even increase its lifespan. In this blog post, we will discuss how water towers are painted and provide some tips on how you can make the process go as smoothly as possible.
Survey The Water Tower
Before applying a single drop of paint, you must first survey and access the project site. Your initial review will help you determine the necessary materials, staff, and equipment needed for the job. You should also take into account any potential hazards that could present themselves during the painting process. Once you have a good understanding of the project site, you can begin the preparation process for painting.
Drain The Water Tower Before Painting
The next step is tower drainage. All water must be drained from the tower before painting can begin. Water tower draining is completed by opening the drain valves at the bottom of the water tank. Once all the water has been drained, you can start to remove any loose paint or rust on the water tank's surface.
If you don't drain the water, you risk the paint not adhering correctly due to exterior moisture caused by condensation.
Prep For Painting
Water towers are typically made of steel, which means that they need to be adequately prepared before the paint is applied. This crucial process usually includes sandblasting or power washing the water tower to remove any dirt, grime, or rust. Once the water tower is clean, a primer coat is applied to help the paint adhere better.
Water Tower Painting Tent
After the tower is prepped for painting, a water tower tent is placed around the structure. These tents are vital because they contain any paint chips or debris that may fall during the painting process. It also helps protect workers from being exposed to harmful chemicals.
These tents also prevent project debris from contaminating the surrounding environment. Water Tower tents also have a unique ventilation system to ensure that the painting area is well-ventilated.
Staffing & Equipment
Staffing for a water tower painting project typically includes a project manager, a foreman, and a team of painters. Ensure that all staff follows OSHA Water Tower safety requirements. These workers will apply the actual paint to the water tower. Depending on the size of the water tower, it can take several weeks or even months to complete the painting process.
Common equipment used for commercial tank painting are scaffolding, ladder cages and lifts. Also, special respiratory equipment is typically worn by the workers to protect them from inhaling paint fumes.
Choosing The Right Color
Once the type of paint has been selected, you must decide on a color. Choosing your color may seem like a simple task, but there are a lot of factors to think about. When selecting the colors for your water tower, you should consider both the function and the appearance of the water tower. For example, if your water tower is visible from a distance, you may want to choose a color that will make it more vibrant and eye-catching.
Your choice of water tower paint color can affect how the community perceives it. You should take into account the surrounding area and any other buildings or landmarks that are nearby. You also need to consider what type of message you want to send with the color of your water tower.
For example, if you want your water tower to be seen as a symbol of strength and stability, you may want to choose a darker color. Ocean towns often paint their water towers blue to reflect the nearby water.
Once you have selected the perfect color for your water tower, it is time to start painting! This process usually begins with a base coat, followed by a topcoat. The number of paint coats will depend on the type of paint you are using and the desired finish. For example, if you want a high-gloss finish, you may need to apply more paint coats.
How To Paint The Water Tower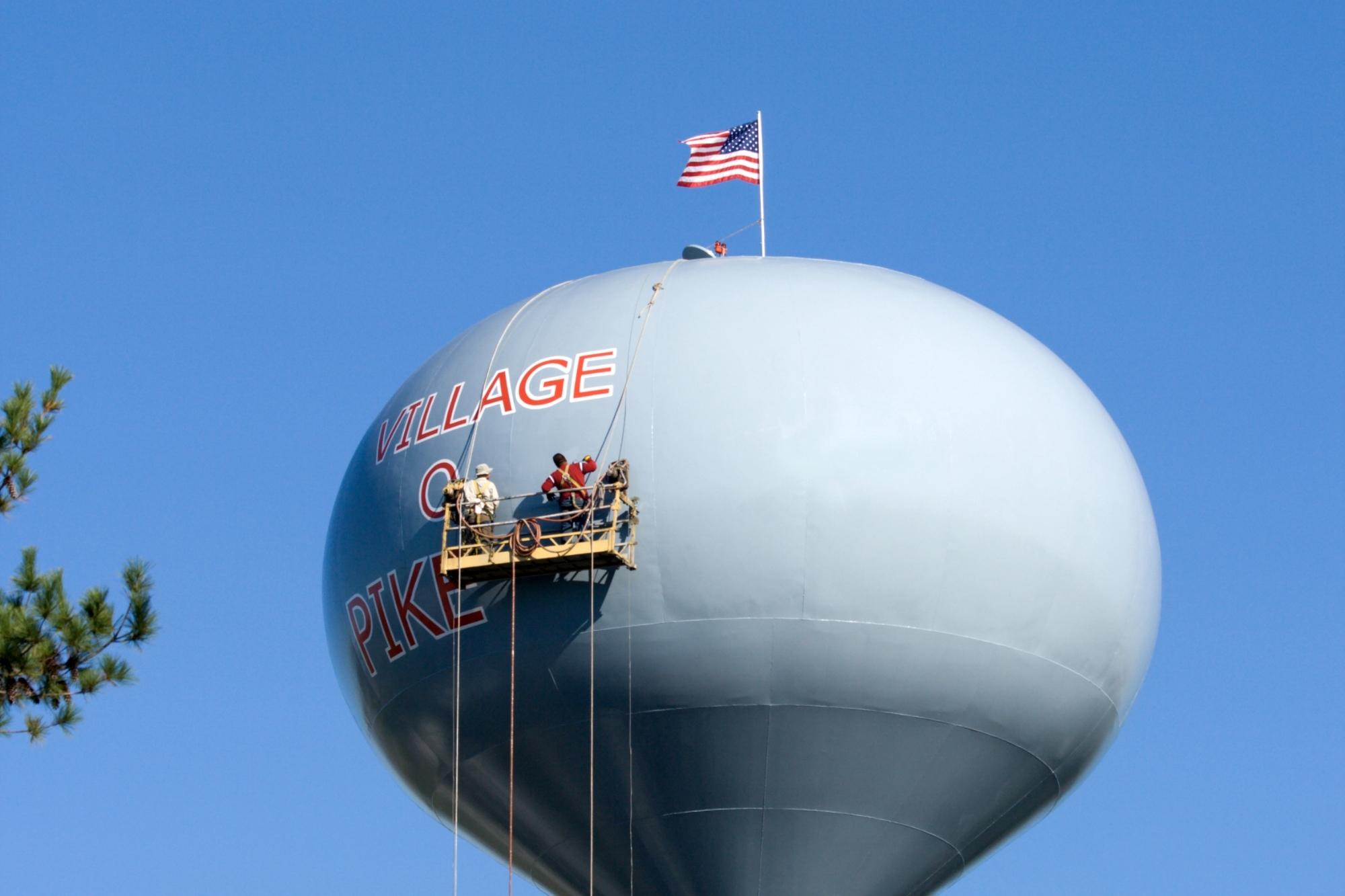 Now we can finally begin the process of painting the water tower. Priming the surface is the first step in painting a water tower. Priming helps the paint to adhere to the steel surface better. The primer also helps prevent corrosion and extends the lifespan of the paint job.
After the primer coat has been applied, it is time to select the number of paint coats required. Factors such as humidity, sunlight, and temperature changes can affect the paint job. For water towers, it is important to use paint that will be able to withstand the elements.
This usually means using epoxy-based paint, designed to resist corrosion and fading. Epoxy paint is a good option for water towers because it is weatherproof and withstands harsh conditions.
After the final paint coat has been applied, it is important to allow the paint to dry completely before adding any graphics or lettering. This ensures that the design will properly adhere to the surface and that the images won't fade over time. Industrial Vacuums are often used to dehumidify the area and speed up the drying process. Water tanks often have their names and locations painted on them so that they can be easily identified.
Once the paint is completely dry, you can add your custom imagery. This is a great way to personalize your tank and make it unique. You can use vinyl letters or even hand-paint the design onto the surface.
Bonus Tip
Proper scheduling is vital because, depending on the size of the water tower, the process of water tower painting can take several weeks or even months. Also, you need to be aware of the weather conditions in your area. The paint job can be affected if the weather is too hot or too cold. Consultation with a professional commercial painting company will be able to help you determine the best time to start your project.
Conclusion
Water Tower painting is a great way to give your town's water storage unit a fresh new look. By following these simple tips, you can ensure that your paint job will last for years to come. And, if you're looking for a professional water tower painting company, be sure to check out Custom Coatings. We specialize in water tower painting and have the experience and expertise to get the job done right.
Contact us today to learn more!