posted by Custom Coatings, Inc. on May 18th, 2015
What your Front Door says about You
We all know that colors can affect our mood. It's common knowledge, right? But did you know that the color you paint your front door can say a lot about you also? Most people paint their front door a color that compliments the rest of their home, while some chose a bold color to attract attention. No matter which is your preference, there is a chance it will affect someone in a psychological sense. Here's what door colors have to say for themselves.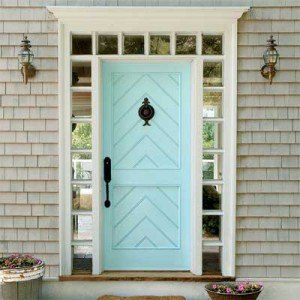 Blue- Doors that are painted blue show that the family is calm and serene. The home is a place of refuge and comfort.
Green-If you are looking for a door that promotes harmony, then green is your color. Typically green doors promote health, safety and tranquility.
Black-Front doors that are painted black shows that the homeowner wants to demonstrate strength, power, sophistication and authority. Black doors indicate that the home is a serious place where a person of substance lives.
Red- Perhaps the most common color for front doors, red has many psychological meanings as well as a history from various religious beliefs. If you door is painted red, your home is most likely a vibrant place that is full of life, energy and excitement.
Brown- Brown doors promote natural and organic beauty. Homes that have brown doors belong to homeowners who offer warmth, stability, and reliability.